Ba Chua Thuong Ngan Temple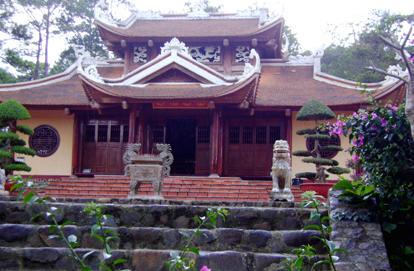 After being married to the princess daughter of King Hung Vuong and drove the Mercury, the god Vien (Mountain Genie) lives with his wife, Kathy turns a very peaceful life happy. The couple gave birth to a son named Mai and a daughter named La Binh. La Binh is a girl with many talents stunningly sharp. She often follow his father around the Tan Vien mountain caves. Where to go to her attachment to the landscape as well, made friends with deer, trees. Son of god status in the mountains are often fond of her and she told board help. God or believe it is very commendable Tan Vien and Nuong, and style for La Binh Thuong thousands princess, governing all realms Nam Giao 81 forest gate.
Becoming Mrs. Princess of the Jungle, nymphs La Binh always hard, do our best to fulfill their responsibilities. Goddess presentation drawings for all kinds of animals from living birds, climbing, dance, fine beast species harmful to organisms, reward meritorious breeds. Goddess is also very attentive to domestic Vietnamese Jiangshan. She has twice epiphany Sheol for the soldiers and generals Li, defeat the enemy Tong, Minister Dr. Tran defeated Mongol invaders. These dynasties are ordained to give thanks to god gifts.
There was once on the Lam Son uprising recovery, just heading up our army, forces are weak, King Le Loi Binh to bring the station manually shut down the reactions of India. She lord Thuong Ngan came to a dream, is advised to withdraw immediately because there adverse terrain. United are taking interminable pacification decision is not promptly Minh enemy indeed know, we welcome our troops sugar and scupper. Defenseless insurgents, scattered each venue, Le Loi and Nguyen Trai to grope in the dark to escape the enemy's clutches. Princess Thuong Ngan has transformed herself into a torch revelation, which led to my King Le Loi was to land in Muong yen, falling into enemy hands. That night, the military advisory means goddess Nguyen Trai also presents strategies for maintaining drawing bases in Chi Linh Mountain. Nguyen Trai so with Lamson mandarins. Ming is indeed up three or four times to withdraw our troops still in Chiling preserving force.
Princess Thuong Ngan was very loving people. Those who have reached the mountain forest streams usually slot phonetic princess was sheltering rock hard legs. So not only the people called gods, which are religious lord motherhood. Ordained religious dynasties is the princess, but the people themselves is respected and referred samples she reverently Model Thuong Ngan is virtue. Her church throughout their mountain caves, and even in the shrine in the family. In Prenn resort guests can visit and burn incense at the shrine in her memory She lord thousand.
Khanh Thuong Hy temple lord thousand - Lam Vien, Da Lat.
Before building weapons, incense;
Prenn Hills, sacred moment;
Lam Dong, Da Lat plateau.
Power up Princess Fairy Day Celebration Supreme thousand;
Twenty, November, Dinh An;
Date sample rates, car loan, the money sits.
Holy Three samples, door disasters;
Cypress holy Council, passed an initial leg.
Green hill, thousands of wind sweeping clouds;
As the voice murmuring streams welcome.
Uphold the spirit of their percentage;
To our origins, outpouring of love.
Before power of money, pay homage to burn incense;
Prayer ten, eight of the proves;
Peace, mother sentient beings;
Rules on origin, ancestry Lac Hong. /.